Accelerated Reader - FAQ's
Nondiscrimination Form -

Backpack Program

BBB Senior Night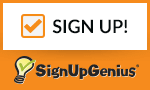 Sign up for preschool screening!
Montrose Kindergarten Registration and Screening will be held from 8:00 am to 3:00 pm on April 18th. If you have a child who will be 5 years old on or before September 1,2018,please call 605-363-5025 or click the logo to the left to schedule an appointment. Please bring the following along to the registration: a CERTIFIED COPY of you child's birth certificate, his/her social security card, proof of residency (which may include 2 of the the following: utility bill, rent receipt, phone bill, homeonwers/renters insurance policy). A copy of your child's immunizations must be turned in to the school secretary prior to the first day of school


Below are links to documents that inform you about the upcoming 6th grade immunization requirements.
Message to Parents - 6th Grade Requirements

Montrose School District 43-2
Dear Friends,
On behalf of the Montrose School District I would like to personally welcome you to our school district and invite you to visit our school. We are proud of our academic and extra-curricular accomplishment here at Montrose and are continually striving to improve our students' educational opportunities. I would enjoy the opportunity to discuss with you in person how the Montrose School District could benefit your child.
Sincerely,
Lonny Johnson, Superintendent
Mission Statement
We are here to touch the lives of others academically, socially, morally, physically, mentally, lovingly, and purposefully, to help them become contributing individuals.


Montrose School District 43-2
309 S. Church Ave, Montrose SD 57048
Business Office Number: (605) 363-5025
Business Office Hours: 8:00 a.m. - 4:00 p.m.

Superintendent -

Mr.

Lonny Johnson
Phone -(605) 363-5025 ext. 205
Business Manager

- Mrs. Cindy Christensen
Phone -(605) 363-5025 ext. 203
Secondary Principal

- Mr. Lonny Johnson
Phone -(605) 363-5025 ext. 204
Elementary/Middle School Principal

- Mr. Sam Jacobs
Phone -(605) 363-5025 ext. 205
Technology Coordinator

- Mrs. Kim Peterson
Phone -(605) 363-5025 ext. 223